Elderly Black DLH Cat Missing in Ashland
UPDATE: EMMA HAS BEEN REUNITED!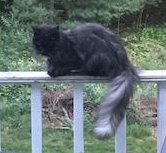 Last seen on Thursday June 7, 2018 at Barry Drive, Ashland, MA.
Emma is an elderly female long-haired domestic cat. She is black but due to old age has much white/grey fur mixed into the black. She is very thin and needs medication. She was wearing a purple collar with name tag and contact phone numbers. No microchip.
Thank you!