Young Westie-Yorkie Mix Dog Missing in Arlington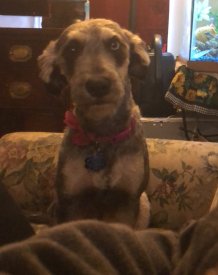 Last seen on Thursday March 15, 2018 at 126 Gardner St., Arlington, MA.
Jessica is a year-old black and brown Westie-Yorkie mix with one blue eye and one brown eye. Shy but friendly. Is a runner. Last seen going down Broadway towards Rt. 16, close to Somerville.
If you think you've seen this pet, please
email thegodess143@aol.com
Thank you!