Black & White DSH Cat Missing in South Boston
UPDATE: BEAST AND CURTIS HAVE BEEN REUNITED!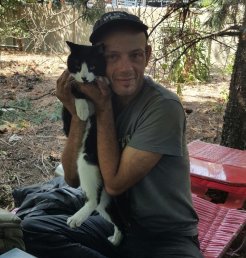 Last seen on Saturday August 26, 2017 at South Boston Seaport area, MA.
Beast is a male black and white cat belonging to the homeless man pictured here. Beast is chipped and may have on a blue harness. Lost behind the venting stacks at the entrance for the Ted Williams tunnel and the Mass Pike, somewhere around Congress St. and the Mass Port haul road.
Thank you!