Gray & White Cat Missing in Lynn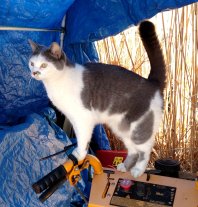 Last seen on Monday June 6, 2016 at 100 Ontario St., Lynn, MA.
Cheech is an 8-year-old female gray and white cat. Please do not attempt to grab her, she gets scared very easy and will scratch.
If you think you've seen this pet, please
call 781-598-6609
or
email zigzag6420@gmail.com
Thank you!