Schiperkee Mix Missing in Palmer
UPDATE: DEEJ HAS BEEN REUNITED!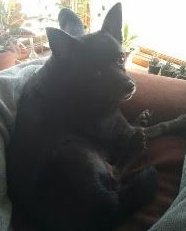 Last seen on Saturday July 11, 2014 at 2094 Calkins Rd., Palmer, MA.
Deej is a small, black Schiperkee mix dog, weighs about 9-12 pounds and is 9 years old. He was wearing an army green harness with skulls on it.
He has a medical condition with his larynx. He is most likely walking with a limp due to a problem where he was born with. We need him back at home!!!!
Thank you!