Cockatiel Missing in Boston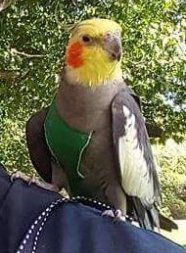 Last seen on Wednesday June 22, 2016 near the James P. Kelleher Rose Garden in the Fenway, Boston, MA.
Dexter is a grey, white & yellow cockatiel. He has his flight suit and leash on.
If you think you've seen this pet, please
call 617-719-5577, or 617-515-2623
or
email 3242@comcast.net
Thank you!