Vizsla Missing in Northfield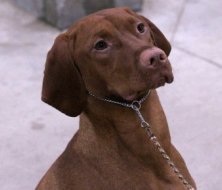 Last seen on Saturday June 24, 2017 at Millers Falls Road, Northfield, MA.
Eli is an intact male Vizsla, rust colored coat, eyes, nose and nails. He has short fur and a 2/3 cropped tail. He is wearing a leather collar with a metal plate listing contact information.
If you think you've seen this pet, please
call 917-536-3758
or
email maushausvizslas@aol.com
Thank you!