Pit Bull-type Dog Found in Barre
UPDATE: DOG HAS BEEN REUNITED!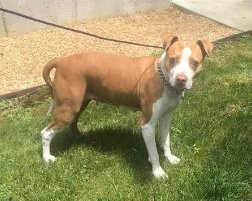 Found on Thursday June 7, 2017 at Worcester Rd./Rt. 122, Barre, MA.
Tan and white female pit bull type dog found in the area of Barre Family Health Center on Rt. 122. She is very scared and possibly injured.
Thank you!