White Cat Found in Southwick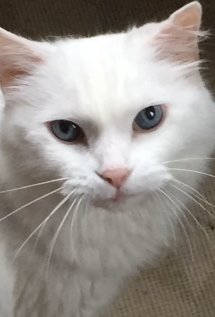 Found on Thursday August 20, 2015 at Meadow Lane/Hillside Rd, MA, near the Westfield line.
Found in our yard, no collar, skinny and hungry. Appears to be lost. Would not leave area after many hours. We've taken it into our mudroom and fed it, to get it off the street.
If you think you recognize this pet, please
call 413-478-1894 or
email dgardner@berkshireindustries.com
Thank you!