Small Black Dog Found in Lunenberg
UPDATE: DOG HAS BEEN REUNITED!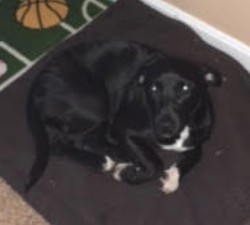 Found on Sunday December 23, 2018 at Cover Terrace, Lunenberg, MA.
Small (15lb?) black dog with white fur on chest and paws found in rough shape. No collar, neutered male, under 1 year old, possible black lab/pit bull mix. Spoke to local police department and local animal control officer, no known owner, currently fostering residentially until owners claim him.
Thank you!