DLH Tabby Cat Found in Worcester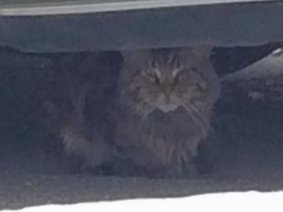 Found on Friday January 15, 2016 at Corning Ave., Worcester, MA.
My partner and I found this cat underneath our car today. If anyone knows who's it might be please let us know. It's too cold out to stay outdoors and we have seen the cat a few times at night and morning times out and about.
If you think you recognize this pet, please
call Sweetpea For Animals at 508-757-7979 or
email sweetpeafora@verizon.net
Thank you!