Long-Haired White Cat Missing in Hopkinton
UPDATE: HARPER HAS BEEN REUNITED!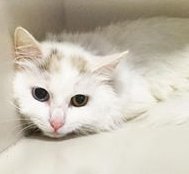 Last seen on Friday March 25, 2016 at 34 Oakhurst Rd., Hopkinton, MA.
Harper is a 10-month-old white long-haired cat with one blue and one brown eye. She is very timid and shy and new to the area.
Reward if found.
Thank you!