Orange Cat Missing in Norwood
UPDATE: MARTHA HAS BEEN REUNITED!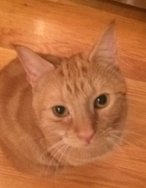 Last seen on Sunday September 27, 2015 at 55 Marlboro St., Norwood, MA.
Martha is a 2-year-old spayed female cat. Her fur is orange/red all over. No other spots or color patches. She is a very friendly house cat, not microchipped. The area is around the Norwood High School.
Thank you!