Shih Tzu Stolen in New Bedford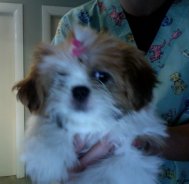 Last seen on Monday March 20, 2017 at Kempton St., New Bedford, MA.
Nena is a seven-year-old spayed female brown and white Shih Tzu. She is microchipped. The picture on the left above is her as a puppy; the one on the right is her now. She was taken from her owner's yard.
If you think you've seen this pet, please
call 774-417-9674
or
email newbedfordveterinaryhospital@gmail.com
Thank you!