Grey & White Tiger Missing in Lexington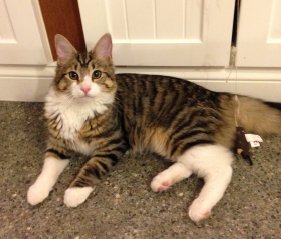 Last seen on Sunday August 14, 2016 at Childs Rd./Diana Lane, Lexington, MA.
Q-Tip is an 8-month-old male grey tiger car, 8lb. White tip at the end of his tail. Very friendly - purr is very quiet.
HomeAgain Microchip #985112007289423
If you think you've seen this pet, please
call HomeAgain at 1-888-466-3242
Thank you!