Orange & White Cat Missing in Lawrence
UPDATE: ROSIE HAS BEEN REUNITED!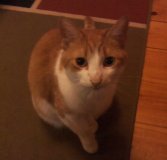 Last seen on Sunday November 1, 2015 at 59 Swan St., Lawrence, MA.
Rosie is a 6-year-old female DSH orange and white cat. She is double-pawed and friendly, but has been an indoor cat all her life.
Thank you!