Black & White Cat Missing in Westwood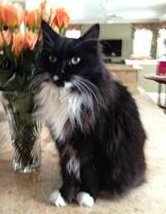 Last seen on Tuesday July 7, 2015 at 5 Longmeadow Drive, Westwood, MA.
Sherman is a DLH black with white tuxedo markings and paws. Age 9.
Registered Avid microchip.
If you think you've seen this pet, please
call 617-697-5671
or
email manormetzold@comcast.net
Thank you!