Tortoise Missing in Dracut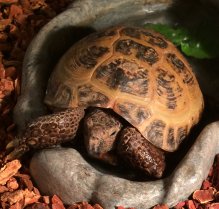 Last seen on August 31, 2015 at Dracut, MA.
STILL MISSING APRIL 2, 2016
Russian tortoise escaped from deck in Dracut last summer. May have been hibernating all winter and hoping he will emerge and be spotted. He is approximately 8 years old and is missing a hind toe nail.
If you think you've seen this pet, please
email amk_0611@yahoo.com
Thank you!