Small Off-White Lab Missing in Stoneham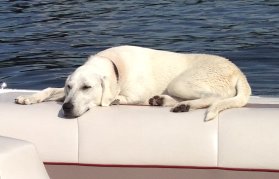 Last seen on Saturday September 5, 2015 in Stoneham, MA.
Tucker looks like a small off white lab. Tucker was being walked by the owner's father about a block from his home when 2 unleashed dogs from a construction site ran toward him. Tucker is timid and he slipped out of his collar and ran.
Tucker is microchipped.
If you think you've seen this pet, please
call 570-840-2436 or 570-362-1646 or 617-697-0919
or
email sl600sl560@aol.com
Thank you!